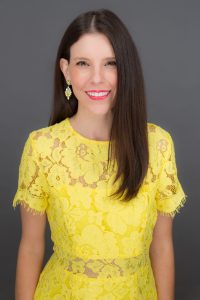 Allison Andrews Canter:  
*Certified Mindful Change Coach
*Successful Entrepreneur 20+ years
*Author & Podcast Host- OWNERSHIP
*Mom of 3 Tiny Humans &  small urban petting zoo
@allisonandrewscanter on socials
Allison Andrews Canter is  published author, Certified Coach,  Consultant, Speaker, and Founded  Fashion Week San Diego® (FWSD) Sold FWSD.  Started her career at 20 as President of APA Business Consulting, Inc. ( now rebranded as Canter Creative Group) and is an Adjunct Professor at Palomar College in the Fashion Department teaching one semester a year the required business class in the Fashion Department,  FASH120.
A passionate entrepreneur and a lot of her previous career notoriety, came from her founding Fashion Week San Diego in 2007, growing the year-long event to become one of the biggest and most prominent Southern California events and largest Fashion Week recognized by industry on the West Coast. It was at the time the only independently owned Fashion Week in the World recognized by the industry. In her time operating FWSD she helped launch and accelerate over 300 designer brands and careers. Amongst FWSD bragging rights under her direction  it's the only bi-national Fashion Week in the world working with International governments and local government, first to put plus size on the runway (this was prior to Sports Illustrated putting plus size on the cover), first to go fully virtual in 2020, and longest running independently ran & operated Fashion Week in North America, recognized by the industry. With global and national partnerships like Sotheby's, Art Renewal Center, Styled to Rock (the Rhianna produced fashion TV show) and CFDA. Consistently has achieved over $94M++ in media impressions in local market every year as well, dominating the event landscape. Including working with luxury designer of North America,  Naeem Khan on industry case studies. Now, with the new Director Gwen Bates, Canters role is as its number one forever cheerleader.
Prior to launching FWSD, Canter founded APA Business Consulting, a consulting firm that supports startups and entrepreneurs with buying, creative direction, brand development, events focused on marketing and sales. She started the company in 2005, at the age of 20. As a consultant she will always be available to entrepreneurs looking to make their mark in the business world. APA Consulting in 2020 rebranded to Canter Creative Group. CCG's focus is on luxury marketing, sales and event campaigns- start to finish.
Canter' passion for helping and empowering others is apparent in all that she touches. In addition, to her full-time commitments as a business owner and mother, Canter is an active community member. She has sat on the boards of several not-for-profit organizations and donating her time to support others & causes she believes in. She served as a Board member (2 terms) and is still a longtime volunteer (over 20yrs) for Rancho Coastal Humane Society, and currently sits on the advisory panel of Vanguard Culture as well as the advisory panel for the Palomar Fashion College.  In addition, is a current member of the Rady Children's Hospital North County Auxiliary. As well as donating and getting involved in the community whenever possible as a guest speaker, panelist, mentor or just an extra set of hands.
A recognized and respected industry thought leader, Canter speaks frequently at various Southern California events, led by professional organizations, as well as local colleges, graduations, networking events, & seminars. In 2013, she was selected as a finalist for San Diego Business Journal's Women Who Mean Business Awards. This is amongst the over 100++ recognitions and awards she has for her work. Including Proclamations from the city of San Diego, State of California and holding several Intellectual Property holdings. Including being written up in Catwalk Journal (trade pub) with an international report on the Fashion Industry here in Southern California and migrant labor. This case study interviewed Canter and Famous North American Fashion Designer Naeem Khan.
Canter holds an Associate of Arts degree in Merchandise Marketing from Fashion Institute of Design and Merchandising and a Bachelor of Science in Organizational Leadership from National University.
In 2019, Canter's life pivoted very abruptly with the birth of her son and  divorce. With her son in critical status in the NICU for over two months, she was forced to take two years off and made sure her son had a full recovery.  During this time she began to write her first book. In 2021, she with being pregnant with her third child was in need a someone to clean her chicken coop, and there was no business out there. So she created a chicken coop cleaning business, Cleaner Coops which is a subscription service model for chicken coop cleaning. As Canter says, "Dirty hands, Clean money." This was during her time off to be mom and in the pandemic. From Fashion to Flock- who would have guessed it.
In 2023, she launched her new career as a Certified Coach with OWNERSHIP COACHING. It's  a book, OWNERSHIP, a podcast, and her as a health & wellness coach.
When she isn't busy working to serve, growing and propelling careers, she enjoys spending time with her children and animals in the coastal town of Oceanside, Calif
Want to Hear Allison Share about what's great To Do in Oceanside? Listen Here: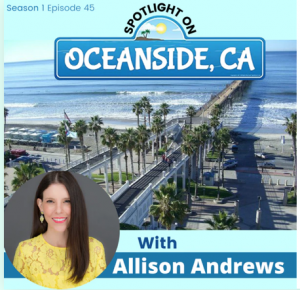 Allison's interview with Melinda Wittstock on the 'Wings of Inspired Business' podcast is finally live! The episode, titled "No Limits: How a Fashion Entrepreneur Proved the Naysayers Wrong," is a full-length interview with Allison that discusses her career, the launch of FWSD, how to pivot your business in a fast-changing industry, and other entrepreneurial topics.
Allison's TV interview on  KPBS on Backyard Chickens & Price of Eggs: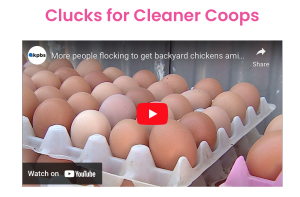 Experience past Fashion Week San Diego under the guidance 2007-2018 of Allison here: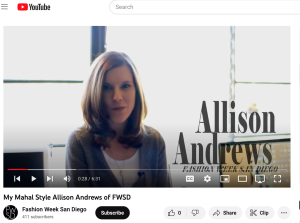 Humble Beginnings (watch here) of  Fashion Week San Diego under the guidance of Allison Andrews Canter 2007-2018